The story of the Alpine Vagabond - Revivalist, Drew Smith
The story of the Alpine Vagabond
Maybe…just maybe, if you shook Drew Smith's calloused, bear-like hand, perhaps through osmosis you might catch a piece of whatever cosmic plane that guy is vibrating on. Sure, it would be a hand that has clutched many a mountain the world-over, but also a hand that has seized the essence of most men's dreams. That distant voice deep down in all of us yearning for adventure, urging us to say, Fuck it, I'm following my heart. I'm gone.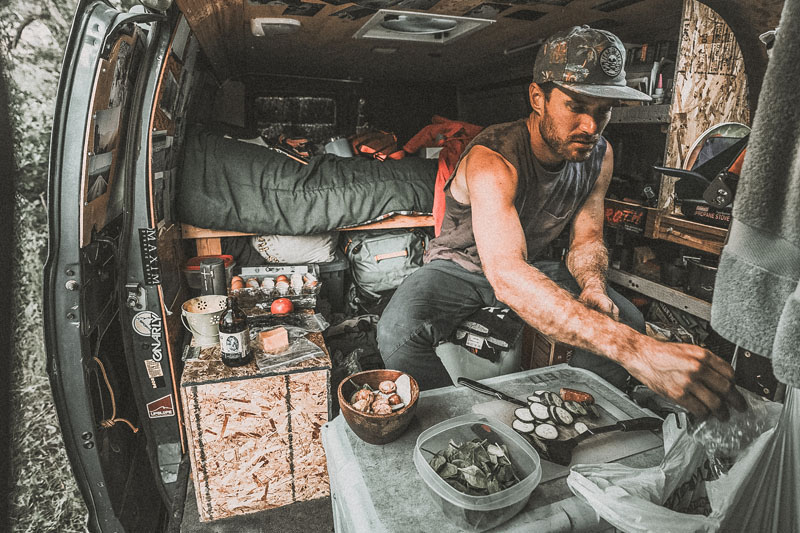 Born in a cabin in Montana with no electricity or running water to bohemian rancher parents, Drew was encouraged to drift and be merry from the start. So he did. Before getting into climbing around age 23, out of high school, he tried welding for a bit before working on an Alaskan fish hatchery. He'd go explore the Grizzly-infested wilderness by foot on his off-times. He bought a car with his friend and took 5 months to drive down to Baja, camping and surfing along the way. He's hitchhiked through Cuba, paddled a canoe up random Laotian rivers, he's raced dirtbikes, snowboarded behind a dogsled team, worked seasons for the esteemed Yosemite Search and Rescue team (YOSAR), free climbed El Cap and even christened a difficult climb in Chile (La Piqueta Voladora) as Drew was its very first ascensionist.
Indeed, his list of exploits and expeditions goes on, but through it all, Drew Smith has become a successful photographer. Published in Sidetracked, Alpinist, Rock, and Ice magazines to name a few, the American Alpine Club and Black Diamond have also hired him to shoot, among a number of other companies. Mostly, because coupled with his sheer talent, Drew is right there on the rock with his subjects.
"Climbing…it's a type of meditation for me," says Drew. "When I'm climbing nothing else is on the mind, you are just so focused on what you are doing. Every once in awhile, when you find that flow, it's one of the best feelings in the world. Your body moves without thought and you feel as though you are floating. The places it's brought me in the world, up El Capitan in Yosemite and on remote peaks of Patagonia and the people I've met through it all — that community of transient dirtbags — we all are searching for something and have that same fire for life and adventure."
Certainly, if you're looking to find this elusive vagabond, you'll have to do some searching yourself; Drew still lives out of a van to this day. 'Cause that's one sure way to never put down roots.