How To Live Deliberately With Karina Petroni
Back in the day, after skipping town for a while to find his own adventure in nature, Henry David Thoreau famously wrote: "I went to the woods because I wished to live deliberately, to front only the essential facts of life, and see if I could not learn what it had to teach, and not, when I came to die, discover that I had not lived…I wanted to live deep and suck out all the marrow of life..."
On our recent trip to Jamaica, a woman named Karina Petroni joined us to write about the adventure. She utterly personifies the life Thoreau urges us to live. Karina, however, never "went to the woods," — she was born there. The Panamanian jungle, actually, where during her childhood, her father was a boat pilot on the Panama Canal. It was there that the golden-haired half-Scandinavian, half-American girl was catching her own fish by age 3, learned to drive by 9 and recalls her Latin childhood as, "An incredible playground of pure adventure and risk and beauty with no TV, no street lights — just otherworldly."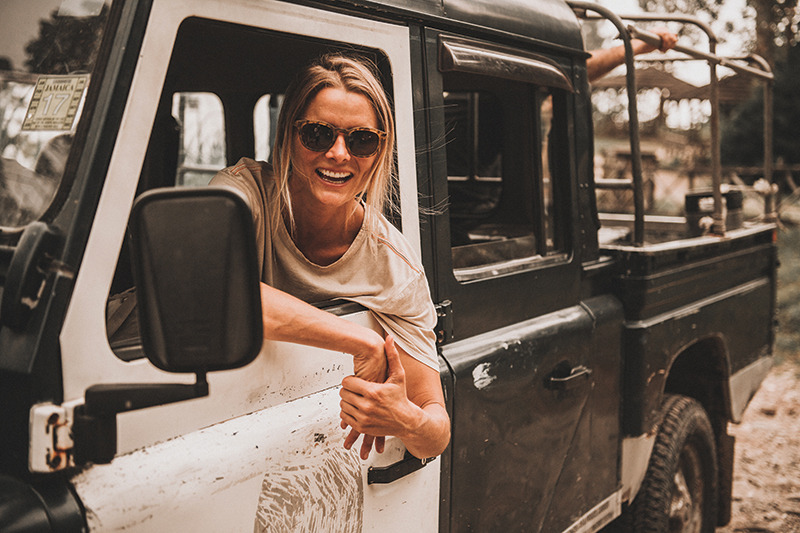 The fam moved to North Florida in the late-80s and Karina got hooked on surfing by 9. Fully sponsored by 11, Aussie world champions Layne Beachley and Rabbit Bartholomew helped her to gain temporary residency in Oz where she became a pro surfer, living the transient life of contests and photo shoots, surfing through 6 continents and qualifying for the World Tour by age 18.
Losing interest with the jersey, Karina began modeling and dabbling in TV. On her way to a Discovery Channel gig to work on a treasure hunting program, the shoot fell apart, but serendipitously, she met her match (and future husband), a brawny, Indiana Jones-type marine salvager based in the Caribbean. Though quickly inseparable, Karina never lost her lust for adventure. A world-class free diver and spearfisherwoman with a penchant for diving with sharks, she worked on the film Sharkwater as well as the Oscar-winning documentary "The Cove."
And today? She picks and chooses her projects, travels often with her husband on the marine salvage off-season, and jumps of choppers to saves plane wrecked in the Cuban passage when the season's on. "The job has definitely made me more capable and appreciative of everything," she says. "Even things like electricity and water [laughs], it's a fascinating, non conventional livelihood."
They live on a private island by themselves in the Bahamas (or somewhere around there) and when they want seafood, they hop in the ocean and catch it. Just yesterday, when we were gulping in 20-second breaths to find some fish, she came up after a few minutes underwater with four lobster and five conch to feed us pathetic boys. She still rips. Is a total babe. And when it comes to Karina, it's plain to see how every step she takes through life expresses the idea of living deliberately.